Keith Anderson Elected IPAV President
2nd June 2014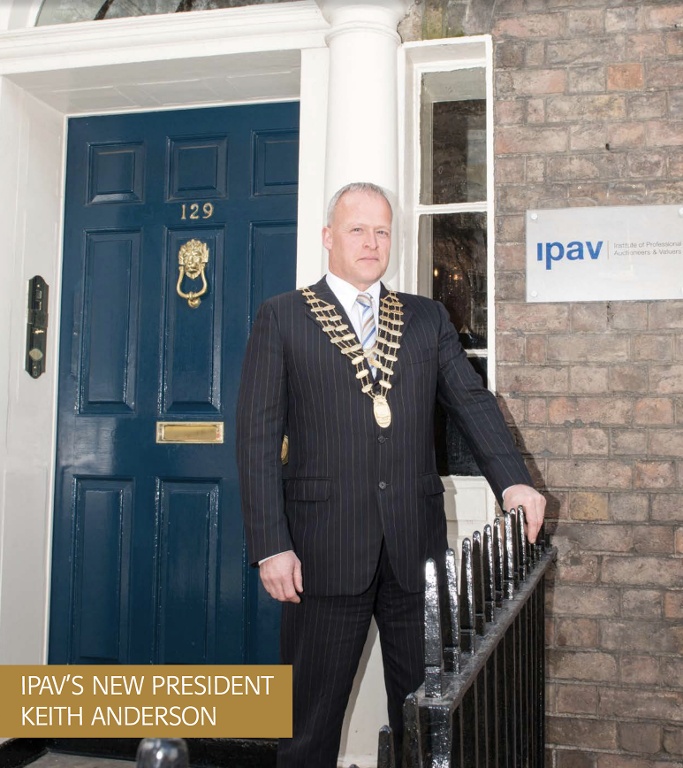 I wish to say how delighted and honoured I am at being elected IPAV President at our recent AGM. It was also a great honor for me to host the occasion in my native Donegal and particularly in the Sand House Hotel in Rossnowlagh, with which I have had a close association for many years. I hope those of you who travelled to Donegal enjoyed the weekend and that you will return again in the not-too-distant future.


I am very much looking forward to my year in office and to working closely with our Chief Executive, Pat Davitt, and the National Council in helping to progress the Institute as best we can.


Shortly after my election, it was my great privilege to accompany our past President Ronald Duff to Washington DC where we signed a Memorandum of Understanding with the National Association of Realtors. This is a landmark achievement for the Institute as our properties will now have automatic access to the huge US market.


In my address to the Annual Conference in May, I singled out a number of concerns I have and on which I hope to work during the year. First among these is the free availability of capital for small businesses like most IPAV members operate so that we can all take advantage of the turning economy and contribute to its overall growth. Without the real availability of credit to all small businesses the economy, will continue to stagnate and limp on in a very restricted way. We are familiar with banks making a song and dance about new mortgages that they are offering etc but when young couples or individuals try to draw them down, they are confronted with an array of stumbling blocks placed in their path. In its ongoing review of the banking industry, the Government needs to insist on total transparency by the financial institutions in their dealings with members of the public
so that people are not constantly let down and disillusioned by these antics.


Turning to the property industry specifically, IPAV has proposed a number of practical initiatives to restart the construction industry and to help make available land notably within the capital. We have long supported and been part of the former Lord Mayor's initiative to have a site levy on vacant sites between the canals which could provide much- needed housing both private and social.



I have myself called for radical changes in the current system of conveyancing whereby it can take an inordinate amount of time to close a fairly simple property sale. While many solicitors are efficient and effective in their work, a minority seem to be on a different planet when it comes to basic communication such as email and even the use of the telephone. They seem hung up in traditional letter writing and long-outmoded timeframes for the simplest of transactions. All professions, including our own, need to constantly review their methods of operation so that we are all at the leading edge of performance.


I also expressed concern about the ongoing sale of huge volumes of property in one single transaction at knock-down prices. Such sales are causing serious distortion in the marketplace and preventing the establishment of any real stability. IPAV strongly believes that rather than selling off huge tranches of apartments and houses often containing 500 units or more, bodies such as NAMA should break them down into single or small units which would have the double benefit of achieving a far higher price for the Exchequer and providing an opportunity for first-time buyers to get on the property ladder. The continuing pattern of selling huge blocks of investment property to foreign investment companies whose sole interest is in amassing large profits cannot be good for the long-term benefit of the Irish economy.


But if there was one overall message which I wished to go out from the Annual Conference, it is that I wish IPAV to become an Institute to which all members feel they can turn to for help and advice when confronted with a problem. While our CEO and Head Office staff provide a high-class service, I think we can extend this much further by members being able to pick up the telephone and talk to each other on day-to-day issues of concern as they arise. I hope that through IPAV we can build a genuine network of mutual support and benefit for all members. As the property market improves and begins to take shape again, so I hope, IPAV too, can grow with it by helping members to grow and develop their skill sets around the country.


We are now in the new era of regulation and IPAV will be playing its part by holding regular Seminars and CPD courses throughout the year. I look forward to meeting you at some of these events


Source: IPAV https://bit.ly/2KCwDD9