Dreaming in Donegal broadcast to millions of Americans in St Patrick's Day episode of hit property show
18th March 2018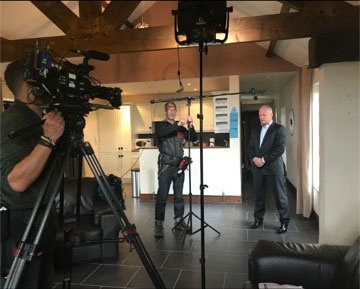 The much-anticipated Dreaming In Donegal episode of American property show House Hunters International aired to coincide with St Patrick's Day.
The huge HGTV show helps Americans find their dream property abroad. Dreaming in Donegal followed Californian woman Kelly Patri on her quest to find the perfect home in the Donegal countryside. She was helped by a friend, local woman Maria Murphy and Donegal Town estate agent Keith Anderson.
High on Kelly's wish list was a home where her beloved dogs would have room to play outside.
Mr Anderson brought her to three homes within her budget of around €200,000. One was near Laghey, another on the outskirts of Ballintra. The third was in the remote townland of Disert, high in the Bluestack Mountains.
Ms Murphy who knew the area well felt that a home near a town or village would be more suitable.
She said: "Kelly is coming from a big city. I think it would be nice for her to close to people in the village and not be too isolated."
Kelly on the other hand was determined to follow her dream of living in the countryside. So the refurbished cottage in the Bluestacks looked set to be a winner.
She was however concerned that it was very close to the limit of her budget.
"There's not much left if I have to make any changes," she said.
But Mr Anderson was quick to reassure her.
"There's nothing to do to it," he said.
Indeed, the cottage was deceptively spacious and after some deliberation, Kelly decided it was the perfect home for herself and her dogs.
As well as the homes themselves, the 'Dreaming in Donegal' episode featured footage of Murvagh Beach, Donegal Town, Harvey's Point Hotel and much of the local countryside.
Auctioneer Keith Anderson is delighted with the opportunity to have south Donegal broadcast to so many Americans.
"This is great for the area. It is great for tourism to have this being shown in millions of homes across America on the night before St Patrick's Day."
Mr Anderson has himself worked to develop strong links with America with a view to tapping into the US market.
While President of the Institute of Professional Auctioneers and Valuers (IPAV) he went to America to sign a bi-lateral agreement with the equivalent US body. This makes it easier for Americans to search for and purchase property in Ireland.
"We are seeing a steady growth in the American market," said Mr Anderson. "I sold a few houses to Americans last year. The Wild Atlantic Way marketing is a big help in showcasing the area too.
"House Hunters International will add to that again, focusing specifically on what is on offer here locally."
Way of Life
Over the years, Mr Anderson has found that people who come to Donegal to look for homes are not just looking for a house but for a different lifestyle. This is true not only for international property hunters, but also for people seeking to move away from Ireland's large urban centres. As well as the improved lifestyle, people tend to get far more for their money than they would in a city.
Mr Anderson is happy for people to call in to his office on Main Street, Donegal Town to see what is on offer. People can also visit the independent auctioneer's website at www.anderson.ie
Anyone who wished to view the Dreaming in Donegal episode of House Hunters International can click below.
Source: Donegal Now https://bit.ly/2lKliD4