Donegal Auctioneer Scoops Prestigious Property Industry Excellence Award
25th November 2017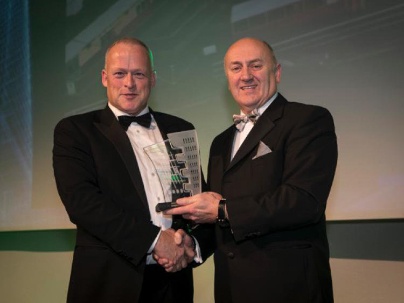 Keith Anderson of Anderson Auctioneers in Donegal has won the Regional Excellence Award in the prestigious Irish Independent and KPMG Property Industry Excellence Awards competition.
This renowned property awards programme is designed to independently recognise the highest standards of professionalism and excellence across the entire property sector.
The Ballintra man was the sole winner of the Regional award, a category encompassing all areas outside of County Dublin.
Over 120 entries over 10 categories were considered by the 17 judges, with the lavish final taking place at the Convention Centre in Dublin on Thursday evening.
Speaking to Donegal Daily, Keith says he is delighted to take the trophy back to Donegal.
"It was a great night, there were over 900 people in the Convention Centre.
"I am delighted especially as we are a small team and to win over such tough opposition makes it sweeter."
Keith, pictured above with his wife Kathleen, thanked his staff, Sabrina and Regina for their contribution.
Keith's mother Una Anderson also attended the awards ceremony to watch with pride as her son was given the trophy.
Anderson Auctioneers is firmly at the heart of the community, first opening its doors over 120 years ago by Keith's great great grandfather Alec in 1897. Keith is now the fifth generation to take the reigns of the historic family-run business.
Source: Donegal Daily https://bit.ly/2lKliD4